Current News
We are so excited; we just purchased a ZONO Sanitizing System.
ZONO Sanitizing
Thanksgiving Traditions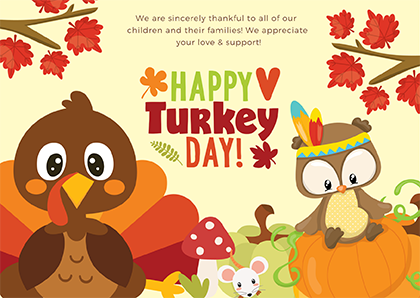 Every family has their own special recipes, favorite foods, and traditions to celebrate Thanksgiving. My family likes to talk about what we are each most thankful for before we gobble up the turkey. Your family may take turns making a wish over the wishbone. Our neighbors send over a pie/cake with the recipe printed on a note card. On the backside, they list reasons they are blessed to have each of our family members in their lives (what a great idea to borrow). Through each of our own unique traditions, our children learn that the way we share our food, beliefs, and values varies for every family. But, this time of year it's important to show gratitude for the people in our lives and all of the amazing gifts we are so lucky to have. This Thanksgiving re-read all of your notes/cards received this year, discuss family & friends, and most of all make it fun! Don't forget to record your children's responses in a journal or video. These are priceless memories to review later during another family holiday or celebration.
Reminders
We will be closed for Thanksgiving on Thursday, November 24.
PLEASE Make sure everything brought to school is labeled with your child's name. And, apply sunscreen before school as things are heating up!
REGISTERING. Fall Classes. Please refer your friends & family!
Events
November 7- 13: Young Readers Week
November 8: Nat'l STEAM Day
November 11: Veteran's Day
November 13: World Kindness Day
November 24: Happy Thanksgiving (Closed)
November 25: Black Friday
November 29: National Day of Giving
Current Newsletter
Archived Child Care Newsetters